John Rutter's 1823
"Delineations of Fonthill Abbey"
Several accounts exist of Fonthill Abbey, but the most comprehensive is the above one from John Rutter.

You can download it here (.PDF format - 14.6mb)




Prior to that John Rutter had already published a less comprehensive version of the above mentioned book called: 'A Description of Fonthill Abbey and Demesne' (1822)

That can also been downloaded from here (.PDF format - 5mb)

Both these downloads are in the Public Domain and were scanned and made available for download by Google Books.




Another option is a facsimile of an original book available at Dick Claesson's site here:
"Delineations of Fonthill Abbey" (1823)




The other main contender for information relating to the Abbey is Britton's book:
"Graphical and Literary Illustrations of Fonthill" Unfortunately I have not seen this online.




John Rutter's Delineations of 1825 contained a useful floor plan of the Abbey.
This can be downloaded here. (1177 x 1697 high 3.63mb) wikimedia.org Public Domain Image

This plan should be an accurate portrayal of the Abbey in the early 1820's period. However a later illustration made during John Farquhar's brief ownership shows a fete being held in the fountain courtyard, and it can clearly be seen that there is an addition to the main southern wing. This was most likely added after the plan was drawn up for Rutter.




Also contained in Rutter's Delineations was a cross section plan.
This can be downloaded here.. (1139 x 843 high 0.46mb) wikimedia.org Public Domain Image




The two illustrations below have been modified to show the various rooms and areas of the Abbey that Rutter mentions in his work "Delineations of Fonthill Abbey".





The above image that I have modified is the one that is typically used to illustrate the Abbey.
It actually comes from John Rutter's Delineations of 1825 (page 66 plate 11) and was engraved by T Higham.

This can be downloaded in its original form here
(1168 x 873 high 1.95mb) wikimedia.org Public Domain Image.




This is a map of the location of Fonthill Abbey (please note: it is private property)

Co-ordinates: 51 degrees, 4 mins 41.71 secs North ¦ 2 degrees, 7 mins 5.47 secs West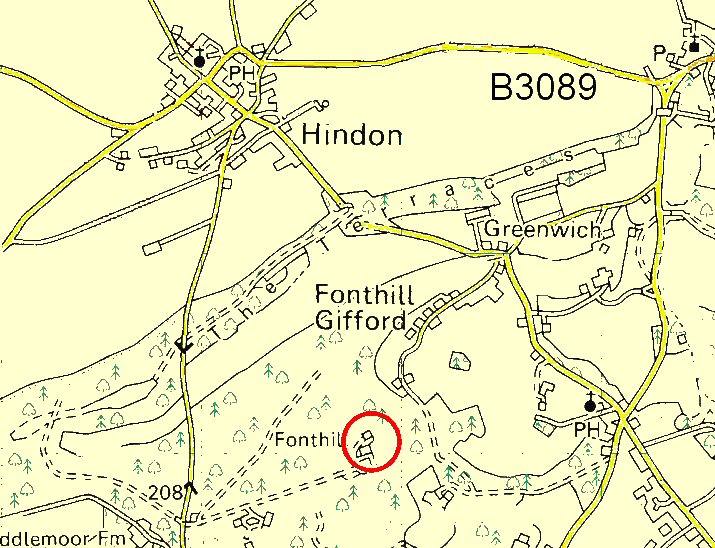 Or alternatively if you have Google Earth installed you can download the zipped location file.



This will take you to the one remaining part of the Abbey that still remains
(The Northern wing's Oratory and Sanctuary).





After the 'Abbey' had collapsed all trace of it was removed except for this one remaining tower, although there are some additional adjoining buildings that look to have been constructed from the demolition material of the 'Abbey'. The original tower has seen many uses, even being used to store farm machinery at one time, before undergoing renovation in recent years and being inhabited once again.

If only those walls could speak...................











Custom Search


My Other Websites: